Male Nose Surgery (Rhinoplasty) Miami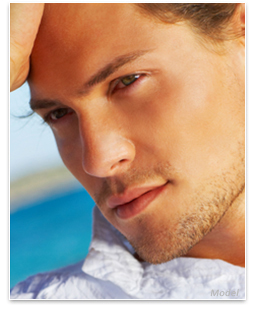 Rhinoplasty, which comes from the Greek word to shape the nose, is a plastic surgery procedure aimed to correct a nasal deformity that is congenital or acquired.
According to the American Society of Plastic Surgeons, in their cosmetic national data bank statistic reports of 2013, nose reshaping (rhinoplasty) was performed in 221,053 patients that year. That is a 9% decrease from 2012 and a 43% decrease from 2000.
Dr. Roudner's surgical goal is to restore the form and function of the nose in reconstructive rhinoplasty such as: after nasal trauma, secondary rhinoplasty, respiratory compromise or congenital deformity. In cosmetic rhinoplasty cases his goal is to correct the nasal deformity and aesthetically enhance the appearance of the nose according to the patient's desire.
Dr. Roudner may perform either a closed rhinoplasty or open rhinoplasty to achieve the pre-operative goals. By separating the nasal skin and soft tissues from their underlying skeletal support and reshaping the bones and nasal cartilages Dr. Roudner creates a functional and facially proportionate nose.
Male Nose Surgery (Rhinoplasty) Before & After Photo Gallery

(Click to view our entire Male Nose Surgery (Rhinoplasty) Before & After Photo Gallery)
Male Nose Surgery (Rhinoplasty) in our Miami office
Patient's that plan to undergo nose surgery (rhinoplasty) must be evaluated carefully by the surgeon for their physical and a psychological health and suitability for undergoing a rhinoplasty procedure. It is of paramount importance for the patient and the surgeon to have a close prospective about the functional and aesthetic nasal problems that the patient may have. The surgeon most obtain a detailed history and physical that pertains to the nasal functionality and aesthetics as well as past surgical interventions performed, drug abuse or any trauma to the nose. The patient's psychological motivation for undergoing rhinoplasty is critical and is assessed by the surgeon carefully in the pre-operative evaluation.
Related:
Contact Dr. Tal Roudner
Contact our office with your questions.