Tummy Tuck (Abdominoplasty)
Sometimes fat in the belly or midsection doesn't respond to exercise and diet, and the stomach area can also be prone to unwanted loose skin. A tummy tuck, also referred to as an abdominoplasty, is a surgical procedure to remove extra fat and skin from the abdomen. In the majority of cases, separated or weakened abdominal muscles are restored to create a firmer, smoother midsection.
Dr. Tal Roudner is a leading plastic surgeon in Miami, specializing in tummy tuck surgery. Dr. Roudner is board certified and a member of the American Society for Aesthetic Plastic Surgery and the American Society of Plastic Surgeons. His approach to tummy tuck surgery is to give each patient a more taut, youthful abdominal appearance while minimizing visible scars.
Tummy Tuck (Abdominoplasty) Overview
Patients in Miami seek out tummy tuck surgery for a variety of reasons, but with similar aesthetic goals. This body contouring procedure can improve the appearance of the midsection and correct the abdominal wall for a trimmer waist and a flatter stomach. Dr. Roudner utilizes his extensive surgical experience to ensure that patients receive adequate reconstructive results in addition to meeting their cosmetic goals. This means that he is careful to re-establish the appropriate anatomy of the muscular layer to prevent recurrence of hernias and restore the structural integrity of the abdominal wall.
Dr. Rounder performs tummy tuck surgery for men and women in Miami. Female patients are often seeking to establish or restore an hourglass shape and minimize lower belly pooch. For male patients, Dr. Roudner focuses on reducing girth in the midsection for a more masculine V shape. Even patients who are at a healthy body weight with a consistent exercise routine may suffer from stubborn fat, loose abdominal skin, or a protruding belly.
Some of the common causes of stubborn unwanted belly fat or sagging abdominal skin include:
Aging
Pregnancy
Heredity
Significant weight fluctuations
Prior abdominal surgery
BENEFITS OF TUMMY TUCK SURGERY
Tummy tuck surgery can have many benefits for the right candidates.* In addition to the cosmetic benefits, an expertly performed tummy tuck will also improve the abdominal muscles. Possible benefits include:
Increased confidence
Improved muscle tone and posture
Excess skin that causes physical discomfort can be removed
Scarring can usually be easily hidden
Depending on their location, stretch marks may be removed
Repair of diastasis recti, which is the separation of the abdominal muscles that often occurs during pregnancy
Tummy tuck may be combined with other procedures, such as liposuction or a mommy makeover
* individual results may vary
WHAT A TUMMY TUCK CANNOT DO
A tummy tuck cannot be used as a substitute for an exercise program or weight loss. Successful tummy tuck patients are typically already invested in a healthy lifestyle and have maintained a stable weight for a significant period of time. An abdominoplasty will not correct all stretch marks, although stretch marks beneath your belly button may be removed if they are in the area of your excess skin.
AM I A CANDIDATE FOR A TUMMY TUCK?
Abdominoplasty may be a great option if you are concerned with the appearance of your midsection and you:
Do not smoke
Are at a steady weight and in good physical health
Have reasonable expectations as to what a tummy tuck procedure can do for you
While the results of abdominoplasty are considered permanent, a continued positive outcome can be diminished if your weight fluctuates significantly. Consequently, if you are planning a future pregnancy or substantial weight loss, Dr. Roudner may advise you to postpone your tummy tuck.
WHAT TO EXPECT DURING YOUR TUMMY TUCK CONSULTATION AT OUR MIAMI OFFICE
The safety of your tummy tuck procedure depends greatly on your candidness during your consultation with Dr.Tal Roudner. Your candidness also affects the result of your tummy tuck procedure. Dr. Roudner will ask you several questions in relation to your lifestyle, health and desired outcome.
You should be prepared to discuss:
Your drug allergies, medical conditions, previous surgeries and medical treatments
Medications, herbal supplements and vitamins you are taking
Any tobacco, recreational drugs and alcohol use
Why you want a tummy tuck procedure
What your desired outcome is
Dr. Tal Roudner will:
Take photographs to place in your medical record
Evaluate your current health, risk factors and pre-existing health issues
Talk about your options and discuss what he recommends for your course of treatment
Address any potential complications or risks associated with your tummy tuck procedure
Discuss what to expect following your tummy tuck procedure, including the results
PREPARING FOR YOUR MIAMI TUMMY TUCK SURGERY
Before your abdominoplasty, you may be asked to:
Adjust or refrain from taking certain medications
Stop smoking several months prior to your tummy tuck because it inhibits your body's ability to recover
Have lab tests performed
Undergo a medical evaluation
Avoid taking anti-inflammatory medications, aspirin and herbal supplements because they may increase bleeding
You will receive special instructions to follow the day of your tummy tuck procedure.
WHAT HAPPENS DURING A TUMMY TUCK SURGERY?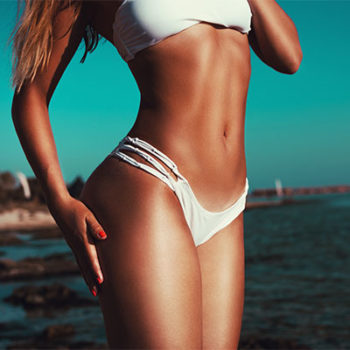 Prior to your abdominoplasty, you will receive sedative medications to ensure you are comfortable during your tummy tuck procedure. Dr. Roudner will recommend either general anesthesia or intravenous sedation (for minor procedures). Tummy tuck surgery can take on average between two to four hours depending on the size and weight of the patient. A full tummy tuck procedure requires Dr. Roudner to make a horizontal incision above the pubic hairline. He will determine the length and shape of the incision by the degree of correction he is making.
Depending on the patient's needs, Dr. Roudner may repair and suture weakened abdominal muscles, as well as remove excess tissue, fat and skin. Removing excess skin in the upper lateral abdomen may require a second vertical incision. A series of different procedures may be performed while removing excess skin and fatty tissue, such as repositioning the belly button (umbilicus) and performing liposuction.
RECOVERY AND RESULTS FROM MIAMI TUMMY TUCK SURGERY

After your tummy tuck surgery at our Miami office, dressings will be placed over your incisions. In some cases you will also be given a compression garment to minimize swelling and support your abdomen as it is healing.

Dr. Tal Roudner may place small, thin tubes beneath your skin to drain excess fluid or blood that collects. You will receive instructions as to how to care for your drain and the surgical site. The drains are temporary and will be removed once the drainage stops.

Patients typically require two weeks away from work to recover after a tummy tuck procedure, and there will be physical activity restriction for six weeks. In general, patients resume all regular activities after six weeks of recovery.

Postoperative instructions will include:
Which medications to apply to your incision or take by mouth to reduce the possibility of infection
Specific characteristics to look for in your health and at your surgical site
When to follow-up with Dr. Roudner
Your Miami tummy tuck results may be hard to see initially due to swelling and the inability to stand straight. However, within a few months you should be able to appreciate the full results of your abdominoplasty.
HOW MUCH DOES A TUMMY TUCK COST?
The price of tummy tuck surgery can vary depending on a number of factors. Patients considering tummy tuck options in Miami should take into account the experience, results, and board certification of their tummy tuck surgeon. Tummy tuck pricing with Dr. Roudner typically ranges between $8,000 to $18,000 and can fluctuate depending on the individual needs and goals of each patient. Patients who require only a mini-tummy tuck can expect a lower overall cost than patients who require an extended tummy tuck or a combination of procedures in order to achieve their desired results. Contact our office to learn more about tummy tuck financing options.
YOUR PERSONALIZED MIAMI TUMMY TUCK
Dr. Roudner recognizes that each patient has unique needs and goals when it comes to tummy tuck surgery. He will thoroughly evaluate your physical condition and medical history and discuss your desired results before creating your personalized treatment plan. Dr. Roudner utilizes a dynamic patient classification system in order to optimize surgical techniques and deliver the best possible tummy tuck results. Patients are classified into types:
Type I
Type I tummy tuck patients are typically younger, with favorable skin elasticity, good muscle tone, and no abdominal wall separation. They may seek abdominoplasty due to isolated abnormal fat distribution (lipodystrophy).
Type II
Type II tummy tuck patients are often women who have had at least one pregnancy that has resulted in mild lower abdominal laxity and muscle separation (diastasis recti) and mild to moderate abnormal fat distribution (lipodystrophy.
Type III
These patients typically have muscle wall laxity, including separation (diastasis of the rectus muscles). Female type III patients may have had multiple pregnancies and generally have significant stretch marks and fat distribution below the belly button.
Type IV
Type IV patients generally exhibit severe upper and lower laxity of skin and muscle, resulting in significant sagging skin. They also may have deposits of excess fat throughout the abdominal area and also suffer from abdominal muscle separation (Diastasis recti).
MINI-TUMMY TUCK OR FULL TUMMY TUCK?
Keeping with his commitment to providing each patient with personalized care, Dr. Roudner will utilize a variety of surgical techniques as part of each patient's tummy tuck treatment plan. Patients with minimal loose skin and no muscle separation may benefit from a "mini tummy tuck." Depending on your patient classification, which will be evaluated and discussed in your consultation appointment, the following procedural practices may guide his technique:
Type I
Type I patients typically have excess fat that can be treated with liposuction alone. Several small incisions may be made in or below the belly button. Standard liposuction, ultrasonic suction and power-assisted suction can be used.
Type II
A mini-tummy tuck (mini-abdominoplasty), combines minimal-length abdominal incisions to allow resection of redundant infra-umbilical skin, it is suitable for type II patients and includes conservative liposuction with resection of the lower abdominal skin. Dissection along the midline below the belly button (umbilicus) allows tightening of muscle laxity. The umbilical stalk is preserved.
Type III
A patient classified as Type III will typically require a modified tummy tuck. This involves detaching the belly button and repairing the lower and upper abdominal muscles. Dr. Roudner takes great care to ensure the belly button retains a natural look.
Type IV
Type IV patients will generally require a full or extended tummy tuck to achieve desired results. The abdominal skin will be lifted and resected in order to minimize loose skin. The belly button will be repositioned and the entire abdominal muscle wall will be tightened.
TUMMY TUCK SURGERY COMPLICATIONS
Any surgical procedure carries some risk of complications. Your risks can be significantly reduced by choosing an experienced board-certified surgeon and by following all pre and post-procedure guidelines. Dr. Roudner will explain and discuss all risks for potential complications to ensure that you make an informed decision when choosing to have tummy tuck surgery.
CONTACT DR. TAL ROUDNER FOR TUMMY TUCK SURGERY IN MIAMI
Dr. Tal Roudner is a leader in the field of plastic surgery and he has helped many patients regain confidence and achieve the body of their dreams. If you have any questions about tummy tuck surgery, or if you are ready to schedule a consultation, simply fill out the form below.
Request a Consultation
Call 305-767-7719 or Use the Form Below to Schedule Online!