Lip Augmentation at Our Miami Office
Lip augmentation, also known as lip enhancement is a procedure aimed to the improve the shape and form of the lips as well as create fuller lips and reduces fine wrinkles around the mouth. Dr. Tal Roudner in Miami is a specialist in lip auugumentation and may achieve that natural youthful look of the lips by using minimally invasive procedures with facial fillers and fat injections or by performing surgical procedures that use flaps that rearrange or remove the surrounding soft tissues and enhance the lips.
According to the American Society of Plastic Surgeons, in their cosmetic national data bank statistic reports of 2014, Lip augmentation (other than injectable materials) was performed in 26,025 patients that year. That is a 3% increase from 2013 and a 40% increase from 2000. Although lip augmentation with the use of soft tissue fillers and fat injection has been increasing steadily in recent years as the use of minimally invasive procedures are on the rise.
Dr. Roudner's surgical goal is to revive the natural youthful appearance of the lips by restoring the shape, form, fullness and appropriate ratio of the lips.
For a consultation regarding lip augmentation contact our Miami office by calling 305-767-7719.
Featured Lip Augmentation Case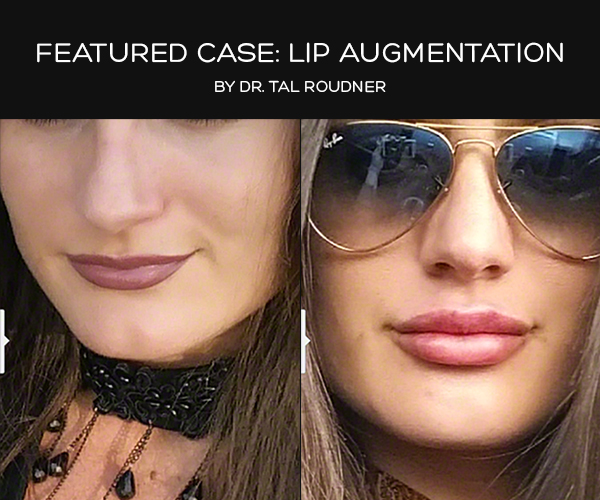 There are surely a lot of surgeons to opt for when going for a lip filler. I couldn't be any happier to have met Dr Tal.The natural but visible results that I was able to achieve are so amazing that I actually went back to 3 times.He is characterized by professionalism, expertise and a great attitude.
– Review by Gioicy
Lip Augmentation Overview
Lip augmentation can be achieved by surgical or non-surgical procedure. The procedure aims to improve the appearance of the lips by enhancing lip definition, increasing the fullness of the lips when needed and maintaining or correcting the ideal ratio between the upper and lower lips.
Full lips with an accentuated defined border and proper upper to lower lip ratio are an integral part of a beautiful and youthful appearing face. As with other parts of our faces one of the effects of human aging is atrophy (loss) of facial fat including the lips.
As part of lip augmentation procedure a reduction of fine lines and wrinkles (often seen in smokers "smoker's lines") can be achieved.
Through history many different products have been used to achieve the desired correction of the lips such as paraffin, wax, liquid silicone, PTFE (Gore-Tex implants) and many more. In the 1980's injectable bovine collagen had gained popularity in correcting facial wrinkles and was used in lip augmentation. Although good results were obtained it required allergy testing prior to injection and was short lasting. Alloderm a cadaveric acellular dermal matrix placed under the mucosa of the lips has been used as well but as with collagen was not long lasting. Fat injections, another method that has regained popularity in recent years has been used to enhance atrophic lips with good permanent results but is some what unpredictable. With the latest advancements in soft tissue fillers new products such as hyaluronic acids like Restylane, Perlane and Juvederm, with their longer lasting qualities and no need for allergy testing, have become the standard materials used in lip augmentation procedures.
Reasons for Lip Augmentation
Aging lips have a loss of body as well as loss of vermilion border creating a deflated aging appearance. The lips are a central part of our face and are essential in expressing ourselves. The loss of fat and muscle as well as wrinkles formed around the mouth emphasize the aging process. Correcting those deficiencies reverses some of those features.
Techniques Used in Lip Augmentation
Topical anesthesia is often used for lip enhancement procedures as well as anesthetic with adrenalin in the injectable syringe. For some patient a regional block such as an inferior-orbital & a mental block (upper and lower lips respectively) may be used to anesthetize the lips. The procedure is performed using tiny 30 gauge needles which makes the procedure much more comfortable to the patient.
When using fat transfer as the method to augment the lips the fat is harvested by liposuction procedure from the abdomen or thigh for example and processed to increase it's survival while injected into the lips with blunt cannulas.
Hyaluronic acids come either with or with out anesthetic and are injected using 30 gauge needles using a retro or antegrade, linear or depo threading method into the sub-mucosal layer. At times some message may be needed to even the filler along the lips. In my experience Juvederm tends to last longer in the lips up to 6 months.
Other injectables maybe used such as Artecoll, silicone or surgical insertion of Gore-tex which I do not perform due to higher rate of complications.
Preparing For Lip Augmentation
Prior to the procedure the patient should avoid taking any medications that will cause bleeding, also know as blood thinners, unless they are medically necessary for the patient. Medications such as asprin, ibprofen, naproxan etc. should not be taken at least 14 days prior to the treatment in order to avoid the increase risk of bleeding, bruising and hematoma. If needed Tylenol can be used (if not allergic to the medication) for any fever, headache or pain. The area should be clean and makeup should be removed. If the patient desires a topical anesthetic maybe applied 1 hour prior to treatment in order to create a "numbing" effect. Cooling the area prior and after to the procedure as well as using adrenaline with the anesthetic and the use of arnica montana, bromelain homeopathic remedies can reduce swelling and bruising significantly.
What To Expect from Lip Augmentation
The procedures performed result in immediate noticeable results with significant swelling for 5 -10 days. The lips look over-corrected in the initial phase due to the swelling. Once the swelling subsides the desired results are noticed. The lips are highly vascular tissues and it is not uncommon to see bruising after the procedure that may last a few weeks.
Anesthesia Used During Lip Augmentation
A topical anesthetic may be applied to the area one hour prior to the injection of the soft tissue filler. Another option is to perform a regional block with an injection of anesthetic such as Lidocaine. Most soft tissue fillers today come pre-mixed with anesthetic or are mixed with an anesthetic right prior to the injection to reduce the discomfort of the procedure.
Length of Time Needed for Lip Augmentation
Depending on the extent and the amount of injectable soft tissue filler used the procedure may take anywhere from 10 minutes up to half an hour.
Post Lip Augmentation Treatment
After the treatment apply cool pack (not direct ice) to the treated area to reduce the inflammation. The areas should not be manipulated or massaged unless instructed by Dr. Roudner to avoid shifting of the filler.
The procedures performed result in immediate noticeable results with significant swelling for 5 -10 days. The lips look over-corrected in the initial phase due to the swelling. Once the swelling subsides the desired results are noticed. The lips are highly vascular tissues and it is not uncommon to see bruising after the procedure that may last a few weeks.
Lip Augmentation Frequently Asked Questions
Additional info regarding Lip Augmentation
The most common reactions after lip augmentation can range from swelling, bruising, redness or itching at the injection site. Other complications may include bleeding, lumps or nodules, granulomas, asymmetry. When a PTFE implant is used, movement of the implants or extrusion can be seen as a complication.
Extremely rare are allergic reaction to the common local anesthetics like lidocaine or the preservative in the anesthetic solution.
Patients who have an active skin infection, cold sore should avoid the procedure at that time. Patients that have conditions such as blood clotting problems, diabetes or connective tissue disease should consult their primary care physician prior to being treated and if so should treated with heightened awareness for possible complications.
Lip augmentation by fat injections may be permanent although the amount of fat survival after transfer is unpredictable and may depend on the vascular blood supply and the mobility of the area injected. Lumping of the fat deposited may also be seen with fat transfers to the lips. The fat donor site usually heals with out any morbidity.
Gore-tex PTFE implants are a foreign body and may have a higher rate of infections as well as possible having issues of implant migration or rejection.
Overfilling of the lips may result in unnatural results "duck lips" and is seen often when the procedure is done by inexperienced untrained physicians, health care providers or salon and spa personal. Severe deformities are commonly seen with liquid silicone injections and are extremely difficult to correct with out leaving permanent deformities.
Request a Consultation
Call 305-767-7719 or Use the Form Below to Schedule Online!