Tal T. Roudner, MD, FACS
A LEADING BOARD CERTIFIED PLASTIC SURGEON IN MIAMI, FL
Dr. Tal T. Roudner is a highly experienced and board certified plastic surgeon in Miami, Florida. Dr. Roudner, often called Dr. Tal by patients, combines his Ivy League education and extensive specialty training with advanced technology and personalized care to provide top-notch cosmetic and reconstructive treatment to his patients. He is a fellow of American College of Surgeons (ACS) and a member of American Society of Plastic Surgeons (ASPS), Miami Society of Plastic Surgeons, Florida Medical Association, and American Medical Association from whom he received the "Physician Recognition" award. Among other recent honors, he was also named Most Outstanding in Breast Augmentation by the 2016 Medical LiveWire Global Awards.
"After researching for quite some time and multiple consultations the moment I met with Dr.Tal I knew he was going to be my doctor. Not only is he extremely knowledgeable, but he is so kind and welcoming I felt in good hands." Allison V., Yelp
WHAT DOES BOARD CERTIFICATION MEAN?
When a doctor is board certified, it indicates they have completed specialty training and rigorous educational standards in order to demonstrate their expertise in their field. Dr. Roudner is certified by the American Board of Plastic Surgery. In addition to education and experience, this certification demonstrates an understanding of medical ethics and an informed pledge to prioritize patient safety. Physicians who are board certified by the American Board of Plastic Surgery have proven themselves capable and committed to the highest standards of care.
"Best doctor and staff. Very professional, very friendly, very affordable. Office and rooms are white glove clean." Suzanne K., Yelp
WHY IS IT IMPORTANT THAT MY PLASTIC SURGEON IS BOARD CERTIFIED?
Patients may not realize that Florida law allows any physician to market themselves as a "cosmetic surgeon" even if they do not have any training in plastic surgery. Board certified surgeons perform thousands of hours of training as a plastic surgery resident, working and learning hands-on under the guidance of established plastic surgeons. A surgeon who is not board certified in plastic surgery may have limited knowledge of advanced techniques, or be inexperienced in handling unforeseen complications. Board certifications in a different specialty, such as gynecology or general surgery, are not indications that a doctor has the experience, skill, or knowledge that comes with being certified by the American Board of Plastic Surgery.
DR. TAL IS A PLASTIC SURGERY SPECIALIST IN MIAMI
Dr. Roudner specializes in a range of plastic surgery procedures and is experienced in customizing procedures to deliver a patient's desired results. Dr. Roudner is an expert in plastic surgery, having co-authored chapters in one of the latest textbooks on cosmetic surgery, Breast Augmentation and Breast Lift. Surgical procedures Dr. Roudner offers include breast augmentation and breast implants, breast lift, breast implant removal, breast revision, and breast reduction, including male breast reduction for gynecomastia. Dr. Roudner is also experienced in other face and body plastic surgeries, such as nose surgery (rhinoplasty), eyelid surgery, facelift surgery, brow lift, ear surgery, tummy tuck, liposuction, fat injections, body contouring, as well as reconstructive surgery for breast and skin cancer patients.
Dr. Roudner performs minimally invasive and non-surgical procedures including: facial fillers with HA (hyaluronic acid) such as the Juvederm line and lip augmentation as well as neuromodulators such as Botox. Dr. Roudner also carries a superb line of skin care products.
Dr. Roudner is in private practice at the Aesthetic Surgery Center of Coral Gables and is on staff at Baptist Memorial Hospital, South Miami Hospital, Doctors Hospital and Mercy Hospital.
"Dr. Tal had wonderful bedside manner and took the time to explain and answer all my questions. He made sure I knew what would happen every step of the way. He was honest about what I may or may not need/want in the future. He did an amazing job on my breast implant exchange (which was pain-free) I would HIGHLY recommend him to anyone needing specialized and superb services. I will definitely be coming back if I ever need surgery in the future. He's the best! Thank you Dr. Tal" Melissa F., via Yelp
Academic Background
Dr. Tal T. Roudner began his higher education at the University of Miami in Coral Gables, Florida and went on to earn his medical degree in Tel-Aviv at the Sackler School of Medicine. He completed a residency in general surgery with the University of Pennsylvania, a prestigious Ivy League university. Dr. Roudner also received highly specialized training in the effects of sun damage and advanced skin treatments during his fellowship at the Department of Dermatology and Cutaneous Biology at Thomas Jefferson University, which is funded by the National Institutes of Health. To complete his medical training, Dr. Roudner pursued his passion for plastic and reconstructive surgery at another leading Ivy League institution; he completed his plastic surgery residency at New York-Presbyterian University Hospital, overseen by Columbia and Cornell universities, where he received progressive training in the latest surgical techniques at world-renowned centers for plastic and reconstructive surgery, such as the Memorial Sloan-Kettering Cancer Center and the Hospital for Special Surgery. Dr. Roudner continues to stay up-to-date in the latest advancements in plastic and reconstructive surgical technique.
Societies and Memberships
Awards and Honors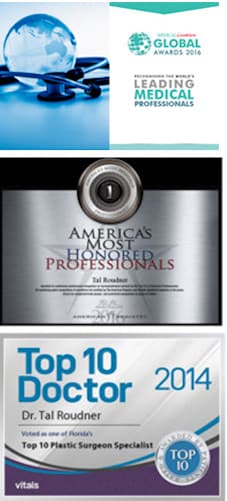 Hall of Fame RealSelf 100 & 500 Inductee 2018
Most Loved Injector Award 2017 RealSelf
RealSelf 100 the top 1% of the real self doctor community award 2016
Global Medical Awards Winner 2016 for Most Outstanding in Breast Augmentation
2016 America's Most Honored Professionals – Out of the hundreds of thousands of professionals who even made our database… You are the "Best of the Best!" You've been awarded more than anyone else. You made the Top 1%!
Vitals Top 10 Doctor Award 2014
Patients' Choice Award 2014
Patients' Choice Award 2013
Most Compassionate Doctor Award 2013
AVVO Patients' Choice Award 2013
Patients' Choice Award 2012
AVVO Patients' Choice Award 2012
Most Compassionate Doctor Award 2012
Patients' Choice Award 2011
Most Compassionate Doctor Award 2011
Physician Recognition Award AMA
NYPH/Cornell Medical Center Honors Vascular surgery
Sackler School of Medicine Clinical Wards Honors: Surgery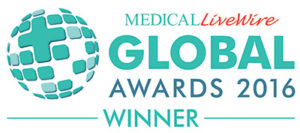 "Glad and proud to be the recipient of this prestigious and unique award. It is presented to one plastic surgeon worldwide annually. The nomination was made by over 100,000 professionals working in the medical industry, general public and subscribers base worldwide that have nominated medical practices, companies & individuals based on their achievements and strength." – Dr. Tal Roudner
Request a Consultation
Call 305-767-7719 or Use the Form Below to Schedule Online!
Dr. Tal Roudner has either authored or reviewed and approved the content on this website.
Page Updated: