SkinMedica at Dr. Tal T. Roudner Plastic Surgery in Miami
Dr. Tal T. Roudner is proud to offer patients a range of SkinMedica skincare products. Made by Allergan, the makers of Botox and Juvederm, SkinMedica is an advanced line of skincare that has been formulated to leverage the body's natural healing abilities to restore and refresh the appearance of the skin. This medical-grade skincare line has been clinically tested to deliver the dramatic results patients—and physicians who care for them—are looking for.
With scientific formulations to treat all types of skin and underlying skin concerns, such as loss of collagen, fine lines, excess wrinkles, and the general toll the natural effects of aging can take on the skin, SkinMedica rejuvenates and enhances the skin for a more youthful appearance. Offering a vast array of retinoids, enriched growth factors, antioxidants, and other biologic compounds, SkinMedica delivers incredible anti-aging results.
We recommend incorporating the SkinMedica product line into your daily routine for continued rejuvenating effects and an all-over glow. These products are also ideal for use before and after surgical procedures, due to their advanced healing properties. Click here to shop now.
Brilliant Distinctions
Dr. Roudner's practice is an authorized provider of SkinMedica through Allergan and we're thrilled to be able to include SkinMedica products in our Brilliant Distinction rewards program for every product purchased at our office.
Allergan's Brilliant Distinctions loyalty program rewards you for each purchase you make toward their product lines—from Botox to fillers. These rewards can be used for discounts or even complimentary future services and/or products.
SkinMedica Products
While we offer a variety of SkinMedica products, below we've outlined our favorite in the sequence they should be used in. We recommend these basic products to all of our patients as the foundation of an optimal daily skin care regimen.
Exfoliating cleanser
Retinol to boost collagen and tone uneven pigment
HA5 to moisturize
Sunscreen to protect
AHA BHA Exfoliating Cleanser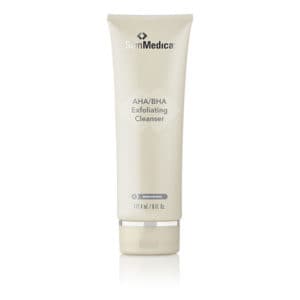 Every daily skincare routine should begin with an exfoliating cleanse. Using a naturally sourced alpha-hydroxy acid (AHA) and beta-hydroxy acid (BHA) paired with jojoba spheres, SkinMedica's AHA BHA Exfoliating Cleanser effectively and thoroughly cleanses while gently removing buildup of makeup, dirt, dead skin, and environmental pollutants to improve and enhance the skin's tone and texture by reducing the appearance of fine lines and wrinkles.
TNS Essential Serum®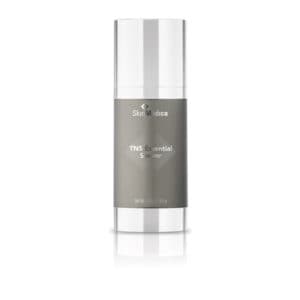 The TNS Essential Serum is a daily all-in-one skin rejuvenating serum for all skin types and ages, that improves the appearance of fine lines, wrinkles, skin tone and surface texture. One of the most popular products in the SkinMedica line, this serum should be worn under sunscreen and makeup to effectively deliver a combination of the renowned SkinMedica growth factor formula, TNS Recovery Complex®, in one chamber and APS Corrective Complex in the other. This patented mixture of essential nutrients in the form of growth factors, cytokines, antioxidants and matrix proteins, peptides and other innovative ingredients work to noticeably counteract the aging process and improve the overall appearance of skin, revealing a rejuvenated and more youthful complexion.
Lytera® 2.0 Pigment Correcting Serum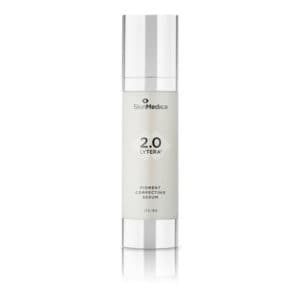 This advanced Pigment Correcting Serum has been scientifically formulated to target abnormal skin discoloration and clinically improve uneven pigment in all skin types and ages in just two weeks. Uniquely formulated to address even the most stubborn brown and blotchy skin, regardless of skin type or genetic makeup, Lytera 2.0 Pigment Correcting Serum greatly optimizes the results of various treatment approaches, such as chemical peels, laser and microdermabrasion, as well as prescription skin care products, such as hydroquinone for a remarkable improvement in the skin's complexion.
Lytera 2.0 Pigment Correcting Serum Patient Satisfaction Rates
95% found that it lightened darker blotches on their skin
100% found it gave them a more even complexion and skin tone
100% reported that it worked well with their other daily skincare products
95% said it minimized the appearance of brown spots1
Retinol Complex 1.0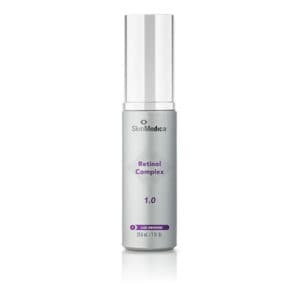 Retinol Complex 1.0 is a proprietary formula encapsulated with PhytoShield™ Complex, an antioxidant that is perfect for all skin types and ages, and works to effectively renew the skin by exfoliating, enhancing texture, tone and resiliency. This product also diminishes the appearance of uneven pigment, as well as fine lines and coarse wrinkles, when applied daily.
Once applied to the skin, SkinMedica's Retinol Complex 1.0 is converted into retinoic acid, or retin-A, one of the most well-known and popular anti-aging agents that is considered significantly less irritating to the skin compared to prescription retin-A formulas. A cornerstone of cosmetic skin enhancement, a retinol should be an essential element of a daily skincare routine. Most patients reported an improvement in skin surface texture with an all-over brighter complexion and more uniform tone.
HA5® Rejuvenating Hydrator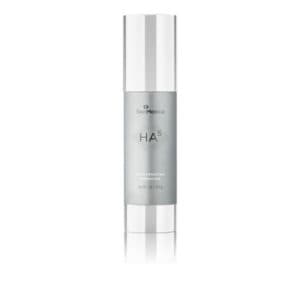 One of SkinMedica's most popular products, HA5 Rejuvenating Hydrator is a scientifically formulated product that delivers five unique hyaluronic acids, providing ultimate hydration benefits continuously throughout the day following application. Daily use results in immediate smoothing effects to the appearance of fine lines and wrinkles by "plumping" the outer layer of the skin, and effectively works to support the body's natural ability to replenish moisture, thereby refreshing texture and tone and resulting in a refreshed and radiant complexion.
This formula also contains vitamin E, a nutrient that works to protect the skin from the damage caused by free radicals, and humectants, a substance that encourages the further hydration of the skin by drawing in moisture from the surrounding air.
Total Defense + Repair Broad Spectrum Sunscreen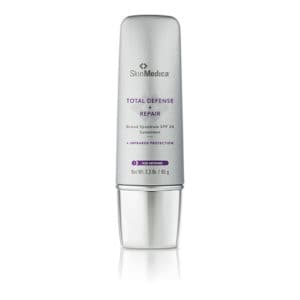 This revolutionary oil-free and fragrance-free "superscreen" is appropriate for all skin types and ages and goes beyond simple UV protection to defend the skin against harmful infrared rays while also supporting the skin's natural ability to restore itself. Due to a proprietary blend of ingredients that include growth factors, this scientific formula improves overall health and appearance with noticeable improvement in skin firmness, tightness, and elasticity.
HA5 is one of the most important elements in a daily skincare routine, and the only moisturizer needed to keep skin properly hydrated to avoid premature aging and restore a youthful, gorgeous, and radiantly smooth glow.
SkinMedica Product Purchase
The skincare specialists at Dr. Tal Roudner Plastic Surgery would love to put together a customized skincare plan just for you. SkinMedica products can be mixed and matched to compliment your existing daily regimen or work to optimize results from a surgical procedure or laser treatment. If you'd like to learn more about our range of SkinMedica products, please contact our office today.
Request a Consultation
Call 305-767-7719 or Use the Form Below to Schedule Online!
Dr. Tal Roudner has either authored or reviewed and approved the content on this website.
Page Updated: