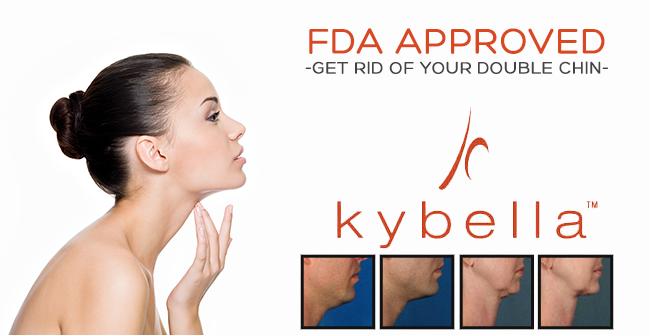 One of the signs of aging that patients find troublesome is a "double chin." Medically this condition is known as "submental fat." Submental fat is the layer of fat in the lower face that makes it appear as though patients have a second chin.
Many patients who have a double chin report that it reduces their self-esteem. This is primarily because submental fat can make a person appear older than they are. Submental fat can also make a person's face appear overweight, even though the rest of their body is fit and toned.
Until recently, the only options for removing submental fat were liposuction and surgery. While these are still great choices, I'm happy to report that we now have a new tool to fight double chins – Kybella®!
In this post, I'll introduce you to the drug Kybella®. Kybella® is the first FDA-approved injectable treatment to help improve your chin profile.
What is Kybella®?
Kybella® is a clear, colorless prescription medication that contains deoxycholic acid. It is the first FDA-approved injectable treatment to help remove the submental fat known as a double chin.
Is Kybella® effective?
Yes! There have been more than twenty clinical studies of Kybella® involving more than 2,600 patients. More than 1,600 of these patients were treated with Kybella® and the remaining patients were treated with a placebo. Seventy-nine percent of patients treated with Kybella® reported satisfaction with the appearance of their face and chin. Many patients also reported feeling happier and younger based on their chin profile, as well as feeling less self-conscious and less overweight. (Source: http://consumers.mykybella.com/about/what-to-expect/)
How is Kybella® administered?
Kybella is administered in a series of up to six treatments. Treatments are spaced at least one month apart. During each treatment, Kybella will be injected into the subcutaneous fat below your chin. Each treatment can include up to 50 injections spaced approximately one-half inch apart. It is essential that these treatments be administered by a highly skilled health care professional who understands the anatomy of the face and neck, as well as how to safely administer the injections.
How does it work?
Kybella® is classified as a "cytolytic drug." This means that it acts like a solvent and destroys the fat cell membranes in the areas where it's injected.
Are there any side effects?
In clinical trials, the most common side effects were at the area of the injection site. The most common side effects reported were swelling, bruising, nodules, pain and numbness in the area.
Am I a good candidate for Kybella®?
Please schedule a consultation so that Dr. Roudner can determine if you're a good candidate for Kybella®.
You are likely a good candidate for Kybella® if you have submental fat and are in good health, do not smoke, have not had previous cosmetic procedures on your face, are between 19 and 65-years-old, and do not have scar tissue in the area of your chin.
You may not be a good candidate if you've had cosmetic or medical treatments on your face, neck or chin. Kybella® is not recommended for people who have infections on their neck, trouble swallowing, bleeding problems, are pregnant, or plan to become pregnant.
Kybella® is a relatively new drug and not yet studied in all age groups. It is not approved for patients below the age of 18. Clinical trials did not study the use of Kybella® in enough subjects over the age of 65 to know if they had more reactions than younger patients.
Schedule a Consultation
Kybella® is a wonderful new option for improving your chin profile. If you have any questions, or want to learn if you're a good candidate for Kybella®, please call our office to schedule a consultation.
Contact Dr. Tal Roudner
Contact our office with your questions.

Kybella® Before & After Photos?