Male Breast Reduction in Miami by Dr. Tal Roudner
Published on December 18, 2012 by
Tal Roudner
The Male Breast Reduction Procedure
male breast reduction will vary based on the cause of your breast enlargement and the make-up of the tissue in your breasts. If adipose tissue is the primary component, liposuction is typically used to remove this tissue. Small incisions will be made, and a thin tube will be inserted through those incisions. Suction is then used to break apart and remove the fat through the tube.
If your breast tissue includes glandular tissue or excess skin, an excision technique will be used. The placement of the incision will depend on the size and shape of your breasts. If your nipple and areola are enlarged and need to be reduced or moved to a more typical location, an incision will be placed around the areola. The incision may also be placed beneath the breast. Dr. Roudner will place the incisions in such a way that they will blend in with your own natural contours; however, you may still have some visible scarring.
( Click to view our Male Breast Reduction Before & After Photos )
Following Your Male Breast Reduction Procedure
At your pre-operative appointment, Dr. Roudner will give you detailed instructions for self-care following your reduction surgery. These instructions should be followed carefully to ensure that you have the best results possible following your surgery and to avoid potential complications.
In the first few days following your surgery, you can expect to have pain and discomfort. Dr. Roudner will prescribe pain medication to help you through this time. These medications are likely to make you sleepy or groggy, so having someone to help you during these first few days is important.
Plan to take time to rest and recover for the time recommended by Dr. Roudner, typically two to three weeks. Avoid excessive movement to allow your incisions to heal well and to minimize scarring. If you have had drains placed, empty these as directed. Keep your incisions clean and apply your prescription medication to avoid infection. If your surgery involved liposuction, wear the compression garment prescribed by Dr. Roudner.
Keep your follow-up appointments at our Miami office. These appointments allow Dr. Roudner to check your progress and make sure your incisions are healing properly. You can expect swelling in the surgical area for six months to possibly a year. Once the swelling goes down and your skin contracts, your breasts will settle into their proper shape, and you will be able to see your final results.
Male Breast Reduction surgery in Miami by Dr. Tal Roudner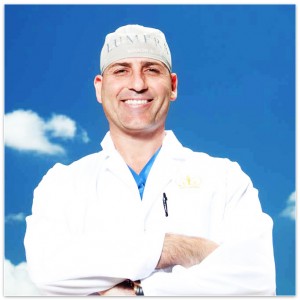 Male breast enlargement, known medically as gynecomastia, can occur for a variety of reasons related to hormone changes or disorders. While most cases resolve naturally, in some situations, male breast reduction surgery may be the best solution.
To learn more about male breast reduction and to schedule your consultation appointment with Dr. Roudner at our Miami office, call us today at 305-767-7719.